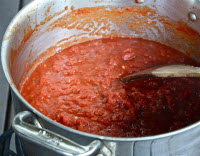 This recipe comes to me from an Italian friend who wrote:  "Mike, once you do this (if you enjoy cooking) you will never buy sauce from a jar again in your life. I make HUGE pots of gravy–freeze it in family size portions and have it for dinner for weeks."
The basic sauce is quite simple. If you prefer, you can dress it up using a number of variations.
Prep Time: 15 minutes
Cooking Time: 2-4 hours
Servings: Makes 1 gallon of sauce
Ingredients
3 or 4 cans of whole plum (Italian) tomatoes (I prefer San Marzanos)
1 can tomato puree
2 tbsp olive oil
3-4 cloves of garlic, minced
1/2 medim onion, chopped
4-5 basil leaves
Salt and pepper
Directions
Blend the whole tomatoes,  smooth or chunky, according to your preference.
In a large pot, heat the olive oil. Add the garlic and onion and fry lightly. Do not brown the garlic; just let the garlic and onion get soft and infuse the oil.
Add blended tomatos and puree and bring to a boil.
Stir and reduce heat to a simmer. For a thinner sauce, cover pot. For a thicker sauce, do not cover. Cook for two hours or more. Add salt and pepper to taste.
Stir constantly to avoid burning the sauce.
When the sauce is just about done add basil leaves and cook a little longer.
Preparation/Cooking Notes
Be careful not to burn sauce. Keep heat low and stir often.
The same is true of the garlic/onion; be careful not to brown it or the sauce will have a burnt taste. If you accidentally do, better to throw it out and start again.
Variations
Fry some Italian sausages and add to the pot.
Lightly fry up 2-3 country style spare ribs (the really meaty ones) and add them to the pot. After about 4 hours of simmering, the meat of the ribs just falls off the bone in shreds and makes for a very nice texture/taste. As an alternative, instead of ribs add 1 or 2 lightly fried Braciola.
In the olive oil/garlic/onion mix, prior to adding the tomatoes, add a full tube of double-strength San Marzano tomato paste and cook well. This infuses the oil/veggie mixture into the paste.
Add one or more of the following to the sauce: fresh parsely, more basil, oregano, a few bay leaves, 1 or 2 thin strips of green bell pepper.