Archive for the 'salad' Category
If you love tomatoes, and especially if you grow your own (or have access to homegrowns), here's a tangy, tasty salad that stars them front and center. It was a staple in my house growing up, appearing in my mother's repertoire from mid-summer through fall, as the homegrown tomato crop came in.
Prep Time: 15 minutes
Servings:  6
Ingredients
8 medium (baseball-sized) tomatoes cut into wedges 1/2″ to 1″ wide
4 medium-large green bell peppers, seeded and cut into bite-sized chunks
1 medium onion, halved and then sliced thinly
Directions
In a salad bowl, prepare Giselle's Vinaigrette.
Chop the tomatoes, peppers, and onions and add to the bowl.
Toss well before serving.
Preparation Notes
A key to this recipe is good tomatoes: ripe, sweet, succulent, flavorful. If all you have access to are the thick, dry, pulpless, flavorless market tomatoes one is often limited to out of season, give it a miss.
If the tomatoes are especially pulpy, prior to adding them to the salad, allow them to drain in a colander or even use a knife to remove some of the pulp. Otherwise the salad can become "soupy."
Green bell peppers are also fairly essential: both in the flavor they bring and in the pleasing contrast their color adds to the tomatoes. Red bells, while great in many other things,  are too sweet for this salad, and green fryers are too thin-walled. Stick with green bells, at least the first time you make it.  You may get good results experimenting with other non-red balls such as yellows.
Generally this salad works best as is. I've tried adding cucumber slices and found they added little, in fact detracted from the presentation. If you have some fresh basil on hand, one or two teaspoons minced can be a nice addition.
While you don't need to use Giselle's Vinaigrette, do be sure to use a vinaigrette as the dressing for this salad. Use one that does not overpower, but allows the natural flavors of the tomatoes and peppers to own center stage.
Serving Notes
Salad can be served lightly chilled or at room temperature.
Unlike green salads, which go soggy and become inedible within several hours of tossing, this salad can keep for several days. It is often even better the second day, when the flavors from the tomatoes and peppers have had time to coalesce with the vinaigrette.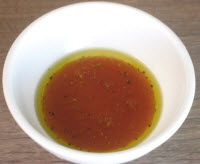 This simple vinaigrette recipe came to me from my mother. Coming from French peasant stock, a salad was always a part of every dinner meal, and the dressing was always a vinaigrette such as this, not the creamy concoctions that have become popular in American cooking.
In addition to its obvious use with salads, this vinaigrette also makes an excellent marinade for white meats like chicken or fish. Scale the ingredients up to make the quantity you need.
 Ingredients
2 tbsp olive  oil
1 tbsp red wine vinegar
1/2 tsp salt
1/4 tsp fresh ground black pepper
1 smallish clove garlic minced
1 tsp Dijon mustard
Directions
In a bowl, add the ingredients. Mix using a broad-bottomed spoon. While mixing, crush the garlic with the bottom of the spoon against the bowl to release flavor.
Variations
As much as I'm a fan of experimentation, this is one recipe that is just about perfect as is. Each component is integral and balanced in its proportions. A quality olive oil is the only oil to use. Red wine vinegar, unless you prefer balsamic (too strong and bitter to my taste) is the only choice as well. The dijon mustard is also an important part of the flavor–don't be tempted to leave it out. If you scale the recipe, be careful to keep the proportions of two parts oil to one part vinegar.
The only addition I've tried that has worked on occasion is up to one teaspoon of a freshly chopped herb: chives or thyme or basil, for example. But one at a time, not all three. And fresh only…leave the dried stuff out. If you do add an herb, as with the garlic, use a spoon to crush it against the bottom of the bowl, releasing flavor.
Especially if you are using this as a marinade for white meat, you might consider adding a little fresh lemon or lime juice.