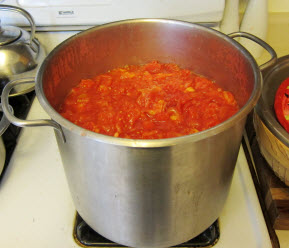 Here is a very subtle and delicious tomato sauce taught to me by my erstwhile, good food-loving friend Gary. You may wonder at its simplicity: the lack of spices, garlic, even pepper and salt. But it is the omission of these stronger flavors that allows its "secret" ingredient–honey–to shine.
This is a sauce best left simple. It goes especially well with heartier pastas…gnocchi or bow-tie, for example, where it compliments without overshadowing the pasta's own meaty flavor.
Prep Time: 5 minutes
Cooking Time: 90 minutes
Servings: Makes 1/2 gallon, approximately 16 servings
Ingredients
Two 32 oz cans of crushed tomatoes
1-2 shallots or 1 small onion, minced
Honey
Fresh rosemary
Directions
In a pot, heat olive oil and then sautee the shallots/chopped onion until soft.
Add the tomatoes and cook at medium heat.Bring to low boil then reduce heat to medium low.
Add 1-2 tablespoons of honey. Stir and taste it as you add…you don't want the sauce to be too sweet.When honey is right, add a 4 to 6 inch sprig of rosemary.
Cook for 15 minutes or so then taste to determine if it needs a little more rosemary. Be careful: Too much rosemary can ruin it so be judicious in adding it.
Cover and cook at low heat for an additionaal 45-60 minutes, stirring occasionally to keep from burning.Remove rosemary before serving.