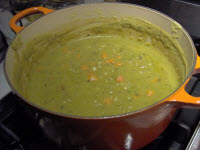 Here's a hearty soup that is the ultimate in comfort food–it comforts you as you prepare it. The aroma is very soothing, and it tastes AWESOME!
Prep Time: 15 minutes
Cooking Time: 1.5 hours or more
Servings: 8
Ingredients
1 16 oz bag dry split green or yellow peas, rinsed
2 tbsp olive oil
1 medium yellow onion, chopped fine
2-3 cloves of garlic, minced. Cut cloves lengthwise and remove the green shoot (which tends to be too strongly-flavored)
2-3 carrots cut into small rounds or 1 cup mini pre-peeled carrots
2 stalks of fresh celery chopped into 1/2 inch pieces
1 tsp each parsley, thyme, rosemary, sage
2 or 3 bay leaves
Salt and pepper to taste
Directions
In a stock pot, heat the oil and saute the onions until translucent. (If you choose to include a leak–see Variations–add it to the saute after the onion and before the garlic.) Add the garlic and saute another minute or so. Be very careful not to burn or brown the garlic.
Once the onions/leek/garlic are soft, add the peas.  Add water, enough to completely cover the peas plus an extra inch and a half extra.  Set heat to  medium flame. Add the carrots, celery, and herbs.
Bring the soup to a boil. Cover the pot and reduce heat to simmer. Cook for one hour at least, stirring occasionally. The peas will soften as they cook and absorb the water. The soup is ready when the peas have all lost their shape and dissolved into a paste. Until that occurs, keep on cooking. Add salt and pepper to taste. A good starting point is 1/2 tsp salt and 1/4, then stir well and increase incrementally as desired.
Remove soup from heat and let sit for twenty minutes. Serve with good crusty bread,
Cooking Notes
At any point while cooking, if the soup becomes too thick add more water, one cup at a time.
Even after the soup is ready, additional slow cooking will allow flavors to concentrate. Always a plus if you have the time.
Variations
If desired, you can substitute lentils for the peas
To include meat, add a ham bone (ask the butcher at the store), pork ribs, hot dogs, or sausage.  This gives it a nice hearty flavor. Add the ham bone once the soup begins to boil. Add hot dogs or sausage 1/2 hour in.
You can include one small leek. Cut it lengthwise down the middle, separate and leaves and wash well ( leeks tend to have a lot of sand in them). Then chop the leek in 1 inch squares and add to the sauteing onions.
Serving Notes
My mother Giselle often made croutons by frying up small pieces of dry French bread (or any kind of dry bread) in a pan on the stove. Just cut up the dry bread into spoon size pieces and fry until golden and crunchy. Then put a few pieces of the fried bread in each person's bowl and ladle the soup over it.
The soup will tend to thicken in the refrigerator. When reheating, add a little water as necessary to thin it.