Archive for the 'spicy' Category
The past few weeks the squid have been thick as fleas at the Nahant wharf. Ben and I have been catching our fill of the tasty  little buggers. With a mild taste and needing minimal cooking time, calamari are ideally suited to sauces. Here's one I adapted for them from a dish originally designed for shrimp. It also takes advantage of the fresh herbs abundant in the garden this time of year. Serve alone or over pasta or rice.
The quantities are rough and can be scaled to taste.
Prep Time: 15 minutes (this does not include any time needed to dress the squid)
Cooking Time: 45-60 minutes
Servings:  8 servings
Ingredients
2 large (28 oz) cans of whole tomatoes
1 cup dry white wine
4 tbsp olive oil
6-8 medium (approx 8 inches long) squid heads, cleaned and cut into rings
1 pound sweet Italian sausage, diced
3 large cloves of garlic, minced
2 medium onions, chopped
3 tbsp fresh basil leaves, chopped
3 tbsp fresh parsley, chopped
2 tsp red pepper flakes
1 1/2 tsp oregano
Salt to taste (1 tsp approx)
Directions
In a pot, heat 2 tbsp of the oil. Concurrently, in a saute pan, heat the other two tsp.
When the oil is hot, add the onions to pot and the sausage to the sautee pan.
Brown the sausage. Then remove it from the heat and place in a colander to drain.
When the onion is translucent, add the tomatoes, wine, garlic, and oregano. As you add them, squeeze each tomato in your hand to reduce it to a rough pulp. Also pour in the juice from the tomatoes.
Stir the mixture, bring to a boil, then reduce heat and simmer for 20-30 minutes. Stir from time to time, making sure not to burn the sauce.
Add the sausage, basil, parsley, red pepper flakes, and 1 tsp salt. Stir and return to simmer for 10 minutes. While it cooks, taste the sauce and adjust the ingredients as necessary.
Add the calamari and cook an additional 3-5 minutes. Calamari takes very little time to cook so take care not to overcook it!
Preparation/Cooking Notes
Make sure the calamari is well-drained before you add it. If necessary, pat it dry with a paper towel. The sauce will coat it much better than if it is wet.
Two teaspoons of red pepper flakes makes for a nicely spicy sauce.  I would not recommend more. For people who prefer less spice, use only 1 teaspoon.
Variations
Shrimp can be used in place of or in addition to the calamari.
While you can substitute crushed or even ground tomatoes, whole tomatoes give the dish a much more interesting texture.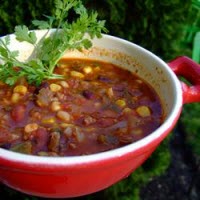 This is an absolutely delicious chili recipe that I found on the internet some years back and continue to make because, man, it's great.  It uses ground turkey, which makes it lower in fat and less greasy than beef-based chili. But what really makes this chili special is its complex taste: a combination of traditional Mexican spices combine with sweetness (from cocoa and worcestershire sauce), smoke (from smoked chipotle peppers), and tanginess (from beer)  to create a truly interesting mix of flavors . It  also has (for most folks) just the right amount of heat: a discernable bite, like a good chili should, but not so much that it overwhelms or detracts from the rich flavors.
The recipe below is close to the original that I found on the internet, with only a few changes (such as the substitution of smoked chipotle peppers for smoke sauce). If you want to read the original recipe, it's here.
Prep Time: 30 minutes
Baking Time: 60 minutes
Servings: Makes 1 gallon of chili, or about 12 servings
Ingredients
4 tablespoons olive oil
2 onions, chopped
10 cloves garlic, minced
4 small green bell peppers, seeded and chopped
2 habanero pepper, seeded and chopped
4 pounds lean ground turkey
4 tablespoons chili powder
4 teaspoons red pepper flakes
2 tablespoons paprika
2 tablespoons ground cumin
4 teaspoons dried oregano
2 teaspoons ground black pepper
2 (1 ounce) envelopes instant hot chocolate mix
4 teaspoons seasoned salt
2 tablespoon Worcestershire sauce
1 8 oz can smoked chipotle peppers
4 (14.5 ounce) cans diced tomatoes with green chile peppers, drained
2 (8 ounce) can tomato sauce
2 (15 ounce) can kidney beans, drained
8 oz  beer
1 cup canned whole kernel corn (I prefer white corn)
Directions
Dice the green peppers and onions. Mince the garlic and habanero.
Measure out all of the dry spices and herbs (chili powder, red pepper flakes, paprika, cumin, oregano, pepper, hot cocoa mix and seasoned salt) into a bowl and set aside.
Heat the olive oil in a large saucepan over medium heat. Add the onion, garlic, green peppers and habanero pepper; cook and stir until the onion is transparent. Push these to one side of the pot, and crumble in the ground turkey. Cover, and cook for about 5 minutes, stirring occasionally, or until the meat is no longer pink. Stir everything together so the garlic doesn't burn.
Add the spice/herb mix. Stir in Worcestershire sauce, diced tomatoes with green chilies, tomato sauce and kidney beans. Dice the chipotle peppers and add them along with the sauce from the can. Crack open a beer, and pour in about 2/3. Drink or discard the rest. Partially cover the pan, and simmer over medium heat for about 50 minutes, stirring occasionally.
Mix in the corn, and simmer for about 10 more minutes. Remove from the heat and allow to cool for a few minutes before serving.
Preparation/Cooking Notes
Like any chili, you can continue to cook this over low heat for a much longer time if you prefer.
You can substitute regular salt for the seasoned salt and probably won't notice the difference.
Recipe Variations
The first time you make it, I recommend sticking to the recipe to experience that result. After that you can try varying it, including turning the heat up or down to your taste. Try more or different types of beans.
 Serving Notes
A great dish almost anytime, by itself or served with nachos, over rice, or with French bread.  If it's a little too hot, try topping with grated cheese or sour cream (also note that the heat tends to recede after the first day.) Makes great tacos and burritos. Freezes and keeps very well.